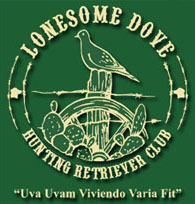 History of Lonesome Dove Hunting Retriever Club, Inc.
---
Calendar
•
Gallery
•
Retrievers
•
Membership Information
---



News



From the President, Mike Southerland (October 2020)

So grateful for the season change, the cooler weather and recent rains. If it weren't for Covid-19 we would be back to normal. Congratulations to all members participating in the recent Hunt Tests. A big shout out to Bryan Parks and Rally for earning a Grand pass in Kentucky, handled by Justin Jackson.

Our October training/meeting day was a productive one. Thanks to Bryan Parks for hosting the day and providing donuts and kolaches ! Those attendingI were: Mike and Patti Southerland, Bonnie Parkhill, Mark and Sharon Freis, Scott Miles, Richard and Kit Empson, Glenda Mitchell, and Bryan, Kamie, Macie and Mallie Parks.

Training consisted of Scott Miles and Patti Southerland each setting up a seasoned test for a club vote to approve them to begin apprentice judging at Seasoned level. Scott set up a land test. He gave a briefing and judged several dogs. Patti set up a water test, gave a briefing and judged dogs as well. Mark Freis, our Field Rep, walked with the judges as they watched the dogs run and offered advice. After dogs ran, members asked questions and gave critiques regarding each test.

Training was followed by our meeting with Mike Southerland presiding. First on the agenda were the votes for the new judges to move up. Voting was unanimously in favor for Scott and Patti. There was discussion about our annual Christmas Party, an Upland Hunt Test in February, sponsor a ladies handler seminar and a regular test in the spring.

We wish everyone a Merry Christmas and Happy New Year!



---
Calendar
•
Gallery
•
Retrievers
•
Membership Information
---