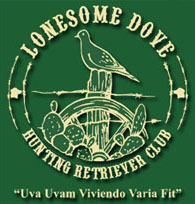 History of Lonesome Dove Hunting Retriever Club, Inc.
---
Calendar
•
Gallery
•
Retrievers
•
Membership Information
---

On September 26, 2000, four hunting retriever enthusiasts met in Eastland to form a club. Those first four were Keith Westberry, Brad Baxter, Cody Wells, and Glenda Mitchell. Each person expressed his/her desire to establish a group of people with the same interests to help each other train their dogs. At this first meeting, the first slate of officers elected was: Cody Wells, President; Glenda Mitchell, Vice President; and Keith Westberry, Secretary/Treasurer. Many names for a club were brought up, but the one chosen was LONESOME DOVE. Dues were set and by-laws were also voted upon.
Club training days were to be held the last Saturday of each month. Members agreed to host training days at a location of their choosing since no formal club sight had been chosen. The area covered by the club is very large, making regular training days difficult. Thus, groups inside the club have worked together in their particular areas to keep dogs worked, and help teach new members training techniques.
Membership grew to the point that the members felt ready to host its first hunt test. Lonesome Dove HRC's preliminary hunt was successfully held in conjunction with The Permian Basin and Cowtown HRC's on September 21 and 22, 2002.


---
Calendar
•
Gallery
•
Retrievers
•
Membership Information
---